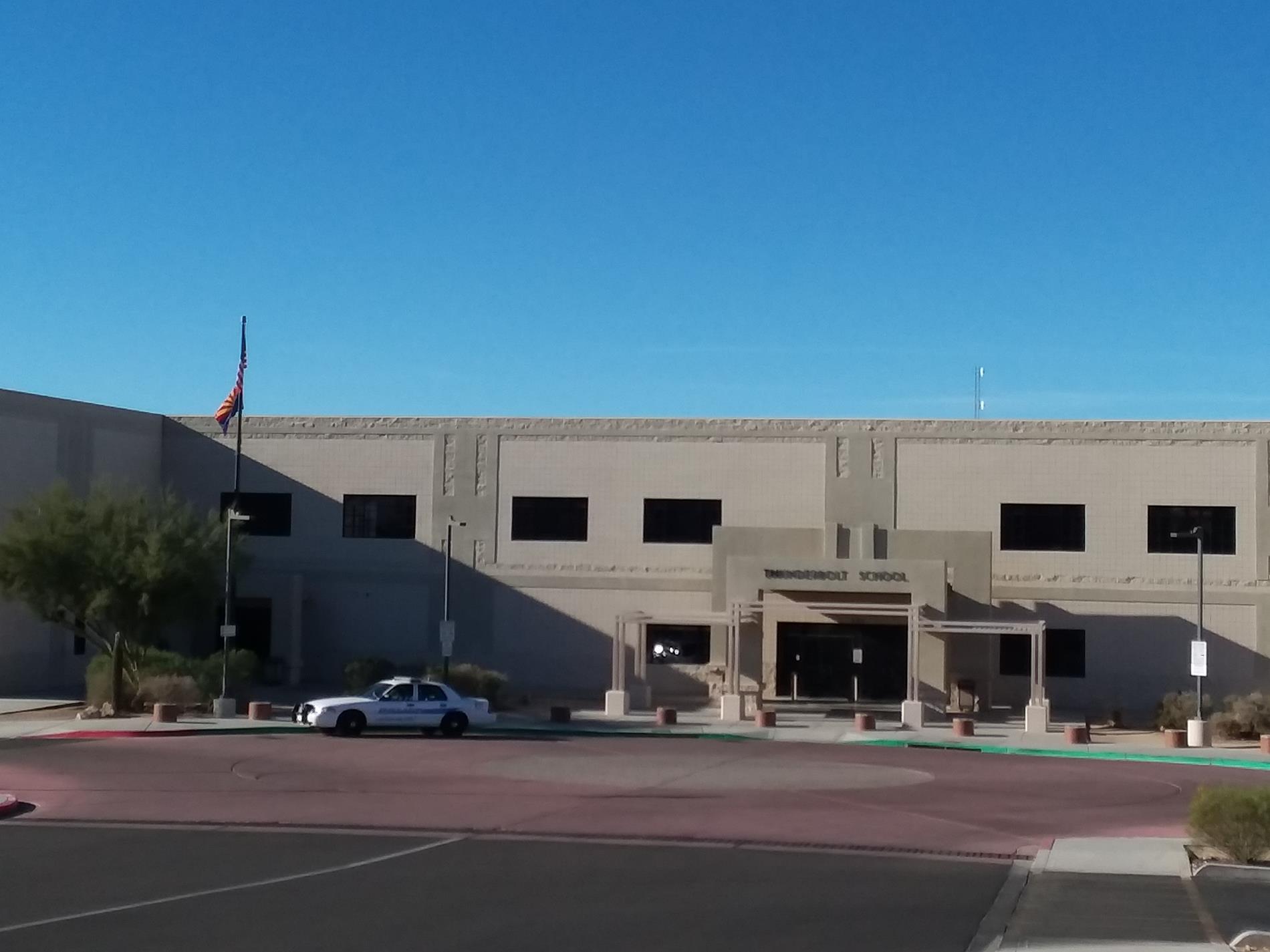 Start Time: 7:55 am (Breakfast available from 7:30 am - 7:55 am)
Dismissal Time: 2:30 pm
Office Hours 7:30am ~ 3:30pm
Please do not drop off students before 7:30 a.m. - there is no supervision.
All visitors please sign in at the office and get a visitor sticker.
Sign all students out in the front office.
If your child will be absent, please call the office at 854-7277 before 9:00 am.
An automated call will go out by 10:00 am to verify any unexcused absences.
We do have a voice mail prior to 7:00 am.
Thunderbolt Middle School (Home of the Thundercats!) opened in 1994. The school offers a wide variety of programs to challenge and provide opportunities for all our students. Here are a few highlights.
- Using the latest classroom technology. Thunderbolt has interactive whiteboards (Smartboards) in use, and every teacher has a projector and document camera.
- National Board Certified computer skills teacher.
- Honors classes available.
- Art, Band, Physical Education, computer classes, and Choir.
- Thunderbolt and Lake Havasu High School coordinate instruction for a seamless transition.
- A selection of interscholastic athletics including girl's volleyball, boy's and girl's basketball, boy's and girl's track, boy's and girl's cross country, girl's softball, boy's baseball, spiritline, and boy's football.
- Wide selection of student clubs and organizations including National Junior Honor Society, Student Council, Educational Tour Club, Interact, and Renaissance.
- Booster Club.
- Full Positive Behavioral Interventions and Supports implementation.
- Campus wide Capturing Kids Hearts implementation.
- Yearly Career Fair.
- ACT Explore Test/AZCIS Profile.
- Response to Intervention for Reading and Math.
- Departmental Professional Learning Communities.
- Intervention focused summer school.
- V.F.W. Youth Activities Award.
Students need options and innovative approaches to learning and Thunderbolt Middle School has them.