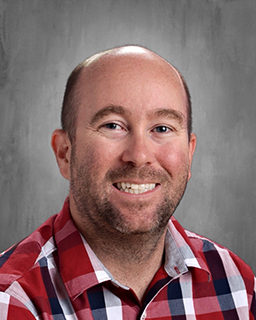 Thunderbolt Family,
Hello, my name is John "Gordy" Hall. It is an honor and a dream come true to serve another year as Principal of Thunderbolt Middle School. After spending 28 years of my life in the Lake Havasu community and growing up as a child who attended LHUSD schools, I have returned to the campus where I once walked the hallways as a student. I spent the first 5 years of my career as an Instructional Assistant and Teacher here in town. Then, I moved to Texas to further develop my skills in education. During my time there, I transitioned from Teacher to Instructional Coach and then to Assistant Principal before returning here as Principal. It is an absolute pleasure to be back for my 2nd year and continue working with such an amazing community that has given me so much over the course of my life.
Thunderbolt Middle School is committed to the following three key components when it comes to educating your child.
A guaranteed and viable curriculum with data-driven instruction
Strong social-emotional support for all students
A high level of community involvement and input from all stakeholders
We also look forward to working with all students to establish and maintain a growth mindset. Students sometimes struggle with confidence, and it is important that they understand that they can improve their skills even when it may seem difficult at times. A strong work ethic is important in helping to instill the characteristics needed to become young adults and successful citizens in the real world.
Family is something that I hold very close to my heart. As a collaborative instructional leader at Thunderbolt, my goal is to establish a school culture where everyone feels like they are a part of the family and that their voices are always heard. All stakeholders working together is key to positive impactful change on a campus. I look forward to an exciting school year and getting to know all of you! Please do not hesitate to reach out. We are committed to ensuring together we can help our students improve scholastically year after year. Thundercats Rock!
Sincerely,
John "Gordy" Hall
Thunderbolt Principal