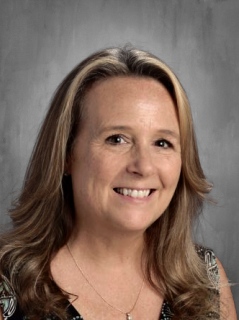 Mrs. Rebecca Neal
Principal
Hello Thunderbolt Parents,
Mr. Hall decided to move in a different direction this first quarter of the 2022-2023 school year. While we are sorry to see him go, being appointed to step into this role is a great joy for me.
My name is Rebecca Neal, and I am thrilled and honored to have the opportunity to lead a school with such a rich tradition of pursuing excellence in education. A little about me is that I recently moved to Lake Havasu in July of 2021. We have been vacationing here, visiting family and we fell in love with this amazing community. I come from Southern California where I have been serving as the principal of a middle school for nine years. In total, I have been in the education field for 30 years serving in roles such as teacher, mentor, instructional coach, educational specialist and more. My life's career and passion is to serve at schools that feel like family, with staff that are gifted and dedicated, and to partner with supportive and amazing parents. Thunderbolt is the perfect fit.
Mr. Hall and the team started the year with a strong commitment to the following:
A guaranteed and viable curriculum with data-driven instruction
Strong social-emotional support for all students
A high level of community involvement and input from all stakeholders
I am fully committed to these and the mission and vision of Thunderbolt Middle School and cannot wait to get to know each of you and your students.
Please feel free to reach out anytime at rebecca.neal@lhusd.org or by calling the school office.
I hope to see you at our upcoming Family Night on Thursday, October 20th and/or Booster Club Meeting November 16th.
Warmly,
Mrs. Neal
Thunderbolt Principal