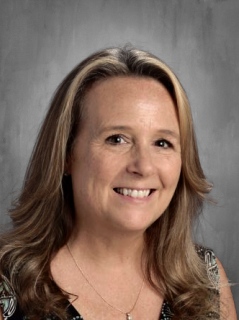 Mrs. Rebecca Neal
Principal
Hello Thunderbolt Parents,
Thank you for visiting our school website. Thunderbolt Middle School's mission is to promote respect for self and others, teach students to ask questions and think critically, build relationships, and empower students to take ownership of their choices. We only get to have students for 2 years here, but we seek to use every bit of that time wisely to provide an excellent education and get them ready for high school and beyond.
Middle school is an exciting time of change for young people, and such an important time of learning, thinking, and growing. It can also be a time of tumultuous feelings, peer relationships and finding new independence. It is our goal to create a nurturing and supportive environment specifically designed for 7th and 8th grade students to grow, learn and thrive. Here at Thunderbolt, we are implementing the Leader in Me program and believe:
Everyone can be a leader.
Everyone has genius.
Our school day begins with a 25-minute homeroom period where groups of students and staff can build positive relationships, growth mindset, study skills and leadership lessons including: Empowering Potential, Communication, Collaboration, Time Management, Developing Strengths, Developing and Executing Goals, Seeking Continuous Improvement, Curiosity, Perseverance, Passion Cultivation, and Integrity.
Over the past year, we have raised the bar on staff and student expectations and accountability to ensure a safe and academic focused environment for our 7th and 8th graders. Safety, Responsibility and Respect are words heard by our students in each day's morning announcements and in their classes throughout the day.
If you are the parent of a middle school student, please check out our sports and club offerings. Middle school is great age to try something new! There's a place for everyone in our club offerings, and joining one of these groups can bring many benefits to your child. There is a lot of research out there to support that when parents and school partner together, it benefits the students and their learning. Please feel free to reach out to me and my staff.
All the Best,
Mrs. Neal
Thunderbolt Principal